Thursday, September 29th, 2011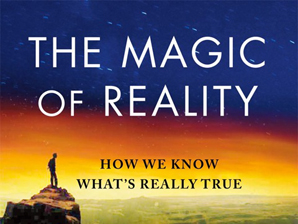 Evolutionary biologist Richard Dawkins has earned a reputation for separating myth and religion from scientific facts in a series of books like The Greatest Show on Earth.  His latest work, The Magic of Reality: How We Know What's Really True is written for children and is available on the Apple iPad for less than the cost of the hardcover book.  The iPad e-book app uses text and illustrations by world-renowned artist Dave McKean graphics to illustrate the scientific explanations for the origin of the planet.  The enhanced digital version of the book also includes games, interactive graphics and videos.
You can find out more about The Magic of Reality on the official app website and view a demo in this YouTube video.
Category: Uncategorized | Comments (0) | Author: Catie